Kharkiv civic groups call for a nationwide movement to support NATO membership for Ukraine
We offer to hold the first " Maidan for NATO " civic movement Forum in Kharkiv on September 20, 2014. We are also ready to organize the event.
There's only one way to stop Putin's ugly new doctrine of irregular intervention — hit back even harder. By Jefferey A. Stacey, John Herbst August 16, 2014 The international community is at long last beginning to take a strong stand against Moscow's aggression in eastern Ukraine. There is solid evidence indicating not only that Malaysia…
Thoughts from Kyiv is brought to you by Mychailo Wynnyckyj, Associate Professor of the Department of Sociology and Kyiv-Mohyla Business School, Director of the Doctoral School, National University of "Kyiv-Mohyla Academy". Below are his thoughts and writings on the situation in Ukraine. "Putin has monkeys in his head!" "No he doesn't – they're mushrooms!" This…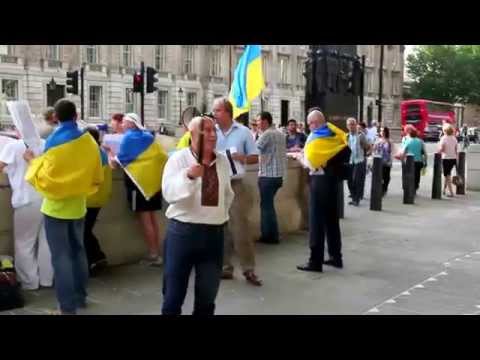 Passers by and members of the public were reminded that the murderous Russian terrorists financed and supported by President Putin were responsible for the MH17 tragedy and that it was his missile that was shot down an innocent civilian plane.
I've spent the past week in Canada visiting my elderly parents. Other than having to deal with jet lag, I've also experienced a degree of culture shock: for the average Canadian, the situation in Ukraine is very distant indeed. For Ukrainian-Canadians who I would classify as intellectuals, the ongoing war in the Donbas is more…
There were infernal carnivals in the capitals of those contries, the patriotic demonstrations under the slogans "Kill the Germans," "Kill the Frenchman," "Kill the Russians!" etc.
Today I was mowing the old-fashioned way, using the scythe. And it is easy to imagine why scythe is symbol of death – with just one stroke, dozens of stems fall helplessly. But today, it is not grim reaper that holds the scythe, it is Russia. And it is not yellow crop under blue sky being…
Senator Markey's legislation would double the amount of resources U.S. government agencies are currently expending to help the Ukrainian energy sector, including the State Department, USAID, the Overseas Private Investment Corporation, the Export-Import Bank, and the US Trade and Development Agency.
The Crimean civil society activists arrested by FSB in May 2014 were engaged in peaceful public activity and are not involved with the organization "Right Sector". The Committee on Aid to the Crimean Political Prisoners made a statement that the accusations of FSB against Crimean activists are absurd and affront to common sense. They also consider that "the real reason for their arrest is Russia's reaction to their participation in the campaigns against the annexation of Crimea as well as the wish to intimidate all Crimean residents who don't support separatists having seized the power on the peninsula".