A Volunteer Of The Red Cross: "Our Maidan Was Between Two Fires"
At first, he was just a drop in the ocean. Then, with a red cross on his back, he was helping people until a sniper bullet hit his leg. After all he has been through, he will never be the same: Roman Kotliarevsky, biologist and logistics manager. During the revolution he worked as a volunteer at the Red Cross, having many exciting, tragic and sad Maidan stories to tell. He himself was injured, but he does not regret the time and efforts he has devoted to an exceptional experience that changed him a lot as many other Ukrainians.
Daniel Dydyk, who suffered brain injuries during the February 22 terrorist bombing of a peaceful march in Kharkiv, Ukraine, died on February 23. His recent photo appears above. Daniyl (also known as Danya) was 15 years old. "He studied at a school for gifted children. He was fond of judo and he was a football fan," said…
IGOR TOLMACHEV (Игорь Толмачев) was a physicist. He was one of the coordinators of Kharkiv Euromaidan a year ago, when Ukrainians stood their ground in defense of democracy and rule of law, protested against government corruption and demanded closer integration of Ukraine with the European Union. Russia-backed terrorists killed Igor Tolmachev today. He died as…
Friends! Organizer of similar action in Kiev Eugene Chebotarev and not indifferent people of Kiev appeal to all Ukrainian abroad. We urge the Ukrainian diasporas and all over the world this weekend – 7 and 8 February – carry out the installation of crosses with the names of those killed in eastern Ukraine in front of the russian embassy's and consulates all around the world.
I am not military expert and I never pretended to be one. It is however at least short sighted, if not ignorant, to observe war situation only from the military perspective. There are many other important areas, like diplomacy or economy, that can have just as strong impact on the final outcome of the conflict.…
Tudjman was criticised for not providing enough help to embattled Vukovar. Response to article Why Ukraine is losing. by Marko Pinteric Author correctly points to many similarities between Croatian war of independence and Russia aggression against Ukraine. However, many conclusions based on similarities are either far fetched or premature. As of military tactics, both Milosevic…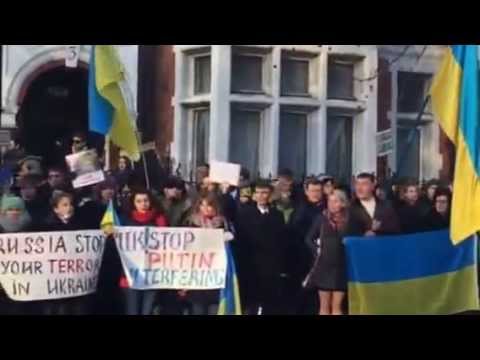 The Ukrainian community in London joined by representatives from Poland, Belarus, Georgia, Lithuania, Syria and the UK appealed to the world demanding them not to tolerate terrorist acts against Ukrainian civilians by the Kremlin-backed militants.
On 18 January, Ukrainians around the world will hold a peace march. Ukrainian community in London organises the protest at the Russian Embassy and will call on Russia to stop murdering Ukrainians, demand the world to stop Russian aggression in Ukraine and recognise self-proclaimed "DNR" & "LNR" as terrorist organisations and Russia as a country which sponsors and spreads terrorism.
Donetsk, 13 January 2015. As a result of heavy fighting control tower of Donetsk airport collapsed. This information is confirmed by ATO HQ and by local residents. At about 11.00 am the tower collapsed, falling on the complex of buildings below, called "horse shoe". (Control tower before the war) Control tower of the airport, with…